I recently led a 5 Day Self-Love Challenge in my private Facebook Group.
I felt that between my booming business, my energetic children and their social schedules, and my intensive Muay Thai training, my Self Care was lacking a bit!
Life gets like that sometimes, right?
Maintenance (or even achievement in the first place) of peace and balance is tricky and so the things that make us feel good and relaxed, that make us slow down, that make us exhale, that help us clear out our negative energy and revitalise get sacrificed.  We eat on the run, healthy diet choices slip down the priority list and we find ourselves indulging in a glass of wine, rather than a meditation to relax!
This is where luxury Wellness Retreats are cashing in.  They offer us the chance to take charge of our health with imposed self care, dedicated support and the promise of transformed health and connection to inner feelings and a new perspective.
So what can we learn from the world's top wellness retreats?
I did some research on the leading Wellness Retreats across the world and the types of programmes you can enjoy by booking in.  Read on to discover:
The Healthy Ageing Women Retreat in Spain
The BodyScience Retreat in St Lucia
The Shanti Sleep Retreat in Mauritius
The LeFay Detoxification Retreat in Italy
And the Ananda Yoga and Meditation Retreat in the Himalayas
Have you ever been on a Retreat?
(Keep reading for 8 Alternatives to a Retreat for improved wellness….)
My sister-in-law just came back from a weekend one right here in New Zealand and she described feeling a million dollars at the end of the weekend.  She connected with like-minded women, she released unprocessed emotion and ate healthily and existed in peace across a weekend of what sounds like pure bliss.
So why aren't we replicating this "bliss" in our daily lives?
The reality is that modern day life is fast pace, high stress, highly toxic and monumentally processed.
In consequence, the progression and severity of "lifestyle" diseases is set to continue at an alarming rate. Figures for diabetes, cancers, cardiovascular diseases and more are SOARING and 80% of healthcare spending across the world is acute to take care of us once we have fallen ill.  It is our ambulance at the bottom of the cliff, so to speak.
And yet, only 10% of our wellness across our lifetime can be attributed to the HEALTHCARE we get.
Think about that for a minute.  Everywhere you look there are hospitals, doctors surgeries, people on waiting lists, people in treatment and for the majority the primary focus of their own healthcare is to seek out the advice of the medical profession when acute symptoms arise.
But across the span of our life only 10% of this acute care can be attributed to us being alive and well?
Basically, yes.  It is our genetics (30%) and our behaviour and environment, including nutrition (60%) that plays a bigger part in the outcomes we get.  Our genetics are a set piece, of course, but how we affect our genes with nutrition and our lifestyle can be attributed a whopping 60% to the wellness we experience across the span of our lives.
With that in mind, is a 5-7 day retreat enough to pick up the slack of this monumental responsibility our nutrition and lifestyle plays in keeping us well?
Do we learn enough, recover enough and change our habits enough in 5-7 days to make the investment in our health through a retreat worth it?
What value do you place on your health? 
At the Ananda Retreat in the Himalayas you'll pay an average US$4000 per person to rejuvenate the mind and body across 5 days; increasing clarity, relieving stress and anxiety, and potentially strengthening your immune system.
As you relax in the beautiful setting, your heart rate will slow down, your blood pressure will lower and the focus on breath will flood your system with oxygen.  It is these vital signs that are the first things a doctor checks when we wind up in hospital unwell because they give such a great indication of our body's state, and combined together can give a picture of the threat to our health.
Do we notice these silent whispers as we go about our busy daily lives?
Our bodies have their own natural balance that is individual to each of us (your blood pressure and heart rate won't be the same as the person next to you and we all have varying levels of insulin receptivity.)  It is these vital signs that change as we respond to stress, lack of sleep, bad diet, and lack of exercise.
When in optimal balance (maybe the imagined state of the "om" as we sit in focused meditation?) our bodies can fight off illness naturally.  It's getting out of balance that can lead to serious consequences, including disease and a shorter lifespan. And this is a process that happens over time, not overnight.  Our lifestyle and attitude has a lot to do with this slip of balance.
To go deeper… our Mitochondria, the powerhouses of our bodies, are able to function optimally when we are in balance.  Mitochondria are part of the energy production work of our cells — our muscle cells, our brain cells — everything needs energy to function optimally, so even a minor impairment of mitochondrial function can have dramatic systemic ramifications.
The energy originally comes from the food that we eat: carbohydrates, fat, and protein. Inside our stomach and intestines, enzymes break down our food into small molecules like glucose and pass them to the cells around our bodies. Inside our cells, these molecules pass into our Mitochondria where they extract energy from the molecules so that our cells can use it.
This is done by burning the molecules; reacting them with oxygen. About 95 percent of the oxygen that we breathe goes to our Mitochondria, and when we burn the molecules with oxygen, the energy that is released is trapped in a currency that cells can use (for example, to contract a muscle) and this energy currency is called ATP (adenosine triphosphate).
Mitochondria are essential for keeping cells alive. If we deprive the brain or heart of oxygen, like in a stroke or a heart attack, a major cause of damage is that oxygen is no longer going to the Mitochondria. When there's a lack of oxygen in Mitochondria, they stop working, and the cells die. A growing body of research is implicating mitochondrial dysfunction as a root cause in a wide spectrum of metabolic, lifestyle and degenerative diseases including: Chronic Fatigue Syndrome, Autism, Cancer, Diabetes, Alzheimer's, Fibromyalgia and potentially many more.  These Mitochondria are essential to our human survival at the most basic level, but they are seriously suffering in our modern environment.
So, as our vital signs slip – our oxygen sats drop, for example – our risk factors for chronic diseases increase and accrue.
71% of the diseases that are killing us annually are within our scope of "control" to avoid.  Cardiovascular disease is at the top of this list.  The heart has high energy demands and 35% of the volume of cardiac muscles cells is taken up by mitochondria.
At the Lefay Resort & SPA, Lago di Garda, Italy, you can detox your heart out for US$3000… 
It's true, our ancient Mitochondria simply cannot cope with the amount of environmental toxins our bodies face off against on a daily basis – from the food we eat,  the medicines we take, the air we breathe, and the chemicals we apply on our body. The lack of quality nutrients in the modern processed diet also challenges our Mitochondria, reducing their function and increasing Mitochondrial damage.
Unhealthy lifestyle habits, bad diet and 'toxic load' show up as raised blood pressure, imbalanced blood sugar and weight gain.  We don't seem to have the time to notice these clues as we are rushing through life, but is a 5 day Detoxification Retreat enough to cleanse your body of all that challenges it?
One of the best ways to improve Mitochondrial health is through sustained dietary changes.  On a positive note you'll get a nutritional consultation and prescription of special diet as part of your stay at LeFay.
Nutrition is the foundation and basis of good health.
The appropriate diet for you can assist in the prevention of many common 21st century chronic diseases such as heart disease, diabetes, neurodegenerative diseases, and cancer.  We essentially pass what we eat to our Mitochondria, so they can make ATP. Having too many nutrients—too much fat, too many carbohydrates or protein coming in—causes extensive damage to the cell and the Mitochondria itself.
What's for sure though is that the more we know about our body, the more empowered we are to ACT.
Sleep at Shanti Maurice (Mauritius)
Sleep is another really important factor for health, and in 2013 (the last year measured by Gallup), the average American slept 6.8 hours a night—with 40 percent banking less than six hours.  New research reveals that children who fall short by just one hour per night have a higher risk of developing Type 2 diabetes!
To understand how much is enough sleep to allow our bodies to rejuvenate, refresh and function at our best, watch this video.  Sleep influences how we think, eat, concentrate and it affects our mood, hormones and immune system.  Getting adequate sleep limits unhealthy food cravings, improves low mood and fatigue, and helps us to avoid chronic diseases!
So how do we discover what nutrition is right for us?
BodyScience at BodyHoliday, (St Lucia) offers DNA testing, comprehensive body analysis and a tailor-made wellness plan using your unique genetic information.
I am a MASSIVE fan of this type of Personalised Wellness.  For me, the discovery of my ideal macronutrient composition and exercise ratio (between strength and endurance) has been life-changing.  My physique has completely changed and I have reversed auto-immune disease. I am also no longer intolerant to certain foods and at the best weight and health of my life!  I'm also confident I'm supplementing what I need to at the right doses and nothing over and above, or lacking.  My energy has been significantly boosted, my body is able to work at its optimum and even my mind feels healthier.
BodyScience at BodyHoliday will set you back US$6000 for a 5 day trip.  Find out how I maintain the same outcomes for just US$3/day here.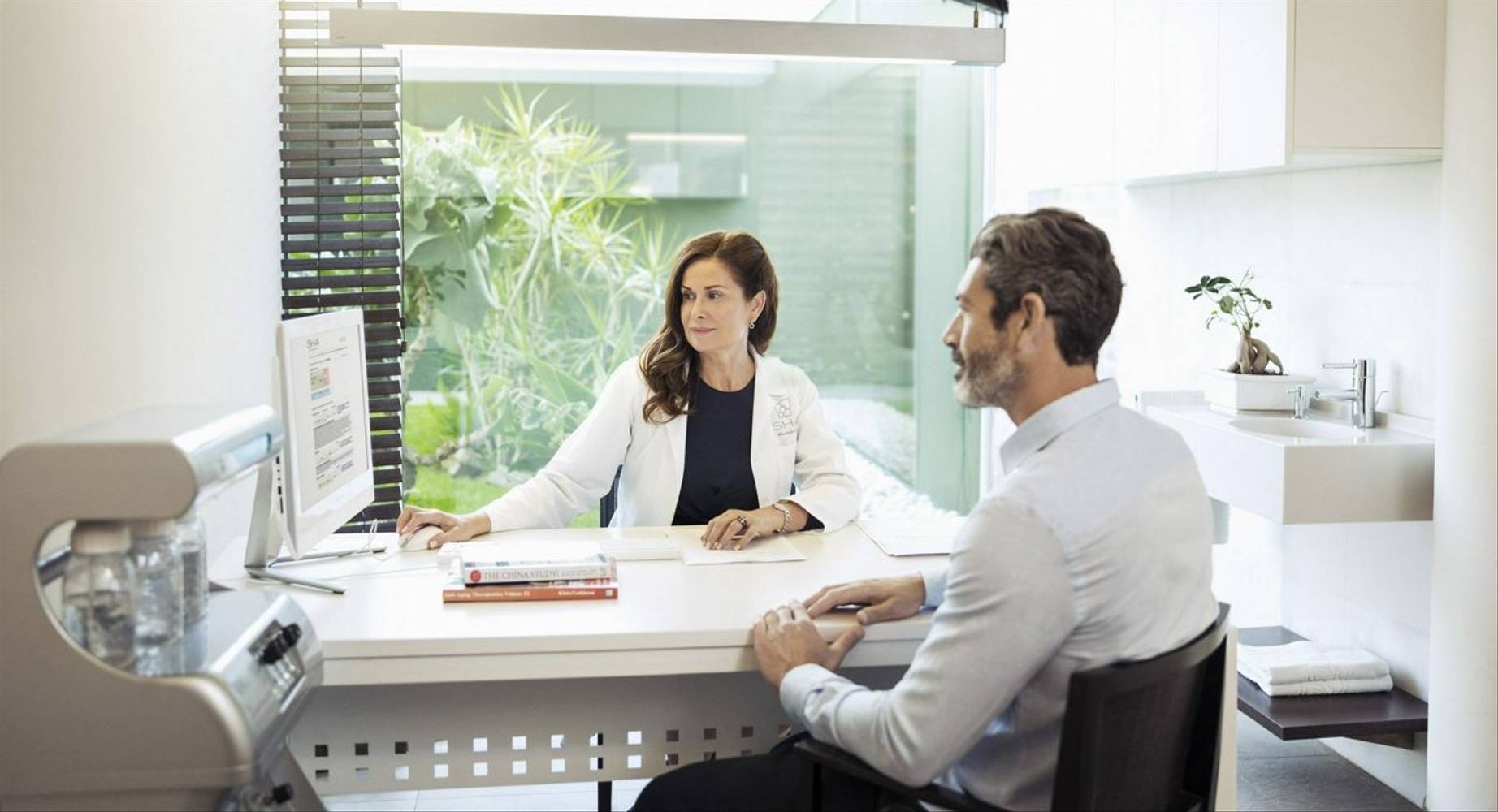 Finally, we have the Healthy Ageing Women Retreat at the SHA Wellness Clinic in Spain. This retreat will set you back US$10k and promises to take away your fear of ageing, as well as provide support to adjust with the changes in your body to preserve youthfulness and vitality. 
But, what makes us age?
In a study of more than 2,000 women, those who had the lowest vitamin D levels showed the greatest signs of biological ageing.
The most reliable measures of a person's age are telomeres; the lengths of the genetic material that cap the free ends of DNA in a cell.  With age, the telomeres shorten and the DNA becomes more unstable until eventually the cell dies.  The study found that those with the highest vitamin levels had significantly longer telomeres – equivalent to 5 years of normal ageing.
Vitamin D has also been shown to have a positive effect on age-related diseases, like heart disease and cancer.
So what else can extend your life? Exercise has been proven to lengthen telomeres (so I should be alright!) and some cells have the ability to reverse telomere shortening by expressing telomerase.  Telomerase is an enzyme that extends the telomeres of chromosomes. Meditation has been shown to increase telomerase.
Here are a few facts to help you make your decision…
Doctors don't have time for us
Chronic diseases that we can control are killing us
Guessing what diet or exercise plan is right for us costs time, money and a lot of frustration
Our bodies metabolise differently depending on our genotype
Understanding our genetic blueprint can help us identify how our body will respond to different diets – whether protein will increase muscle tone, whether low carb will affect hormones or blood sugar negatively, for example
If we eat to our genetic metabolism we shouldn't need to diet and struggle with willpower/hunger.  We can target food choices better, improve our eating habits, eat in the right portions and stick consistently to a habit that is going to serve us for a lifetime
Getting your diet right can help your body get back into a natural state of balance, improve your immune system (80% of the immune system is in our gut) and avoid chronic disease
A few tweaks in mindset can help you give yourself the self care you deserve and time management skills that serve your stress levels and anxiety.
8 Alternatives to a Wellness Retreat
Unprocess your diet

Go back to wholefoods and if you have to eat processed food, stick to foods with less than 5 ingredients that your grandma would recognize!  This will help prevent the need for detox.

Go chemical free

Use essential oils to replace chemical cleaners, perfumes and skincare over things our body doesn't know how to process.  This will support mitochondrial health!  (Don't forget EMFs)

Consider this

Our genes naturally have spelling mistakes that predispose us to certain health problems, but our lifestyle and environmental factors pull the trigger.  We can literally avoid activating faulty genes.  It's called Epigenetics.

Hydration

Get at least 8 glasses of water a day.  Consider downloading an app that can remind you when to drink and how much.

Breathing

Many people do not breathe very well, especially people who have suffered chronic stress.  This can have negative health effects.  Go deeper at this blog…

Investigate Intermittent fasting

Eat food in a 12 hour window – it's good for our brain and body!

Eat lots of colours for phytonutrients

Eat at least 4 portions of vegetables a day and make sure they are colourful

Consider tracking your blood sugar

How our body responds to sugar is significantly important to our long-term health. Blood Sugar levels are integral to weight loss and a factor in over 100 diseases!  It's important to note the distinction that blood sugar problems are the

symptom

of T2 diabetes, not the cause.  The cause is insulin resistance that builds over years.